TESOL Traning Contents:
TESOL Trainee: These days we study a lot of news thins about how to teach .let me think what I learned these days .
We learn how to greet.for example , I say hi,students should say hello ,I say hello ,students should say hi.
We learn lot of thinking map.for example :bubble map ,double bubble map, flow map, muti flow map, brace map. Bridge map
Then we learn lot of games and activity. Divider ,direction, hangman ,rock paper, scissor DRIIl ,FOUR corners, paper planes, big circle, small circle, the human knot ,I spy London bridge ,tic toe toe.countdown.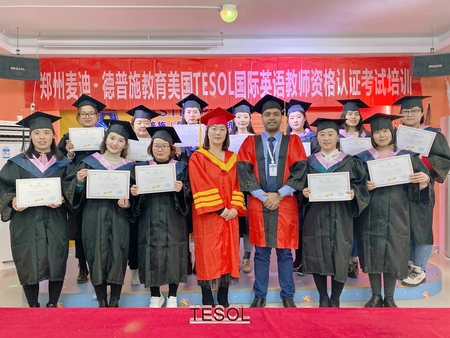 I leaned how to teach new words. Step1: teach vowel sound ,step 2: stop at the vowel sound, step3:read words to class .step 4:teacher students "call-out" step 4:copy cat exercise .step 6:boo boo catcher step 7:time reading.
TESOL Methods :
We learn many teaching approach like.TPR.TPR means total physical response . The method is an example of the comprehension approach to language teaching. The listening and responding (with actions) serves two purposes: It is a means of quickly recognizing meaning in the language being learned, and a means of passively learning the structure of the language itself. Grammar is not taught explicitly but can be learned from the language input. TPR is a valuable way to learn vocabulary, especially idiomatic terms, e.g., phrasal verbs.
TESOL Methods TPR: Total physical response is often used alongside other methods and techniques. It is popular with beginners and with young learners, although it can be used with students of all levels and all age groups.
And we also learn how to teach children new vocabularies. Why isn't it easy to teach very young children?
What about practising new language with a video? English videos can be used from time to time to bring variety in class. Moreover, children, it doesn't matter how young they are, are very open to new technology. Using a video means seeing and hearing at the same time. So, it is double exposure to the language the Ss. are learning
At first I was against it, saying it is a lazy medium which affords little challenge for the mind as it provides little room for the students' imagination to thrive: you just spoon-feed the mind with sounds and sights. Now I have become addicted to it. It happened when I realized I could change this lazy medium into a useful classroom tool. Just one example: How about turning off the sound and asking students to guess or even create the dialogue from a scene?
How about giving your students hand-outs with the lyrics and blanks which they have to fill in while listening? Or asking them to identify every word they already know, and treating them with a reward – of your choice – for their answers.
TESOL Lesson Plan:
The internet is a marvelous source full of ready-made lessons to be used by language teachers. It offers a wide variety of songs and short stories – many animated – that are fun to watch and very efficient to use as modern approaches to enhance language skills. Children are exposed to native speakers of English who sing or tell stories on a wide variety of topics
One of the videos I have fallen in love with is the song I like Elephants, or "The Elephant Song", by Eric Herman:
Elephants. I like elephants.
Elephants. I like elephants.
I like how they swing through trees
Monkeys. I like monkeys.
I like how they swim in the ocean
Fish. I like fish.
I like how they scratch at fleas and sniff at trees and bark at the mailman
Gotta like dogs.
…
The song is a great opportunity to teach names of animals and many verbs which otherwise would be difficult to learn, especially at young ages: sniff, scratch, curl, purr, reach into, bark, stomp, chase as well as nouns like beehive, maze etc or prepositions.
How fast 5days past.i will miss the place. I will review what we learned.and take the strength I get from here.
TEFL官网:www.teflinchina.com
TESOL官网:www.tesolinchina.com ‍
TEFL/TESOL总部地址: 北京市西城区宣武门海格国际大厦B-605-606
总部电话:010-83197099, 63267701.